Supporting local communities has always been central to our operations in the Jadar Valley.
There are understandable concerns among community members about how potential health, environment and social impacts would be managed should this project go ahead. We must address community concerns and uphold the highest social and environmental standards in order to build sustainable futures for the communities we operate in.
The significant economic and social benefits, including employment, small business development, tax and royalty streams, training and skills development and socioeconomic programmes, are and will not be created at the expense of the environment. Environmental protection and social and economic development can go hand-in-hand.
We recognise that while the benefits of our activities are widespread, many of the negative impacts are localised. Our teams work in partnership with communities to understand how our activities impact their lives, culture and heritage. Through meaningful and sustained engagement, we can respond to community concerns, mitigate negative impacts and optimise socioeconomic benefits.
When we engage with local communities, we aim to:
Interact proactively, early and often
Listen actively to community views
Communicate openly about our company and proposals
Provide adequate resources for engagement activities
Invest in relationships for the long term
Respect cultural protocols
Hear the full range of views and interests, including minority and divergent views
We have been proactively engaging and cooperating with the local community since the initial stages of the Jadar Project over 20 years ago. In order to support these engagements, we established two Information Centres in Loznica in 2016 and Brezjak in 2019. The purpose of these centres is to provide the local community with up-to-date information about the Jadar Project and listen to their concerns.
Engagement with communities has also included public presentations, Open Day events focusing on particular aspects of the project, consultations and regular community meetings, both in person and online.
We have held events about the environment, air and water quality, noise pollution, biodiversity, spatial planning, cultural heritage, land acquisition and compensation, solving property issues and opportunities for local suppliers. These engagements have helped us to understand community priorities, concerns and expectations. These interactions also inform our environmental experts' knowledge, so they can consider ongoing refinements to mine, processing plant and associated infrastructure study proposals.
By conducting thorough studies and analyses, consulting with local communities and adhering to strict internal standards and practices that comply with, and often exceed, domestic and EU regulations, we strive to entirely prevent or minimise potential negative impacts on the local community.
Our performance in numbers
To date, we have invested more than €2 million in supporting and directly financing approximately 100 local community projects, which have benefitted over 10,000 people.
1,300 members of the local community have accessed advisory services from our expert partners, including free agricultural advice.
Donations amounting to $450,000 USD have been directed towards local organisations and projects since 2019.
$130,000 USD has been donated to support the local community through the COVID-19 pandemic.
More than 5,800 formal engagements with local community members since August 2019.
More than 30km of road has been repaired or improved.
According to a social survey conducted before land acquisition started, there were 152 households identified to be potentially economically displaced in the CPF. Currently, 129 households have been confirmed to be economically displaced after selling their land (this includes the 52 households which physically resettled). All of these households have received or are currently receiving livelihood restoration support. The total number of economically displaced households in the CPF would be confirmed if the land acquisition process continues.
Supporting local communities through donations and sponsorships
In 2019, we began a range of community sponsorship programs. To date, we have invested more than €2 million in supporting and directly financing approximately 100 local community projects, which have benefitted over 10,000 people.
We also supported the local community in 2020 and 2021 through donations directed towards COVID-19 prevention and recovery programs. In 2019, we established a Local Road Committee which provides us with a model of technical cooperation with local partners for evaluating the condition of local roads used by the company and the local community. The Committee has and will continue to provide technical recommendations for repairs to maintain the quality and safety of local roads.
Contact us for more information on how to submit requests for donations and sponsorships

[email protected]
Cultural heritage
The preservation of the Jadar Valley's rich cultural and archaeological heritage is of vital importance to the Jadar Project and has been factored into all project proposals. We are undertaking cultural heritage studies in partnership with archaeologists, universities, government institutions, and other experts to develop a deep understanding of the cultural heritage of the Loznica valley and develop best practice approaches to effectively preserving and promoting it.
Co-operation with local cultural institutions and communities
The Jadar Valley is home to the Paulje Necropolis, an archaeological site of a Bronze Age cemetery dating back around 3,500 years. We have been cooperating with the Jadar Museum in Loznica to support the careful excavation of cultural artifacts, such as burial mounds, ceramics, stone tools and bronze objects.
The Church of St. Georgije is located close to the mine's proposed location, however it would not be impacted by the Jadar project's operations. We understand the important role that the chruch play sin the community and we are committed to ensuring that it remains a protected cultural heritage site.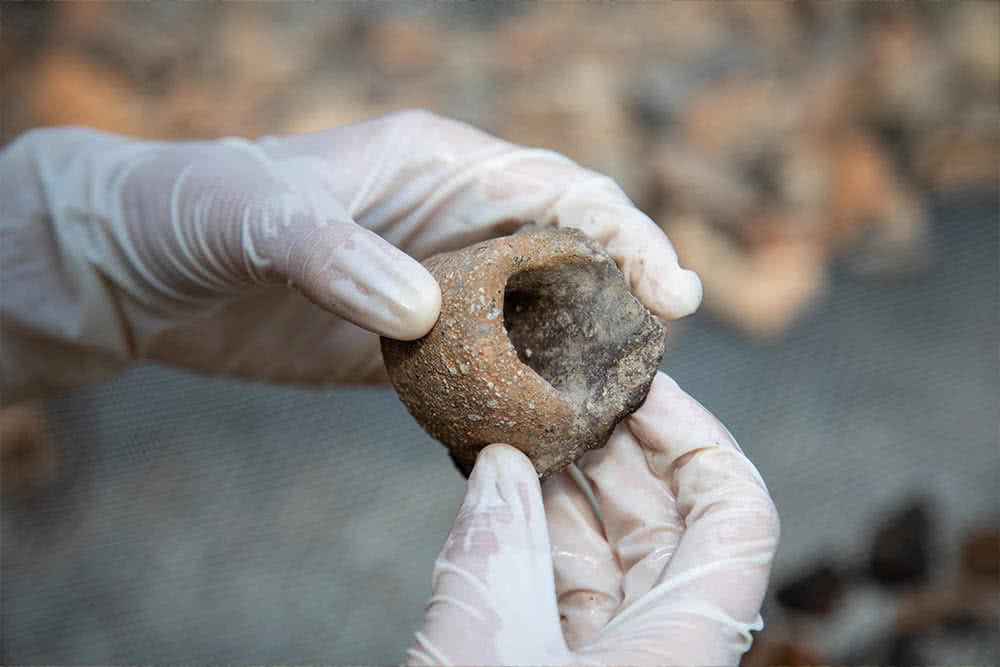 Investing in advanced archaeological technologies
While supporting convention research methodologies, excavation and preservation of artefacts for public display, we have also invested in advanced technology, including LiDAR and geomagnetic technologies, which have improved the precision of survey techniques to better identify and map archaeological sites. These technologies have also improved the excavation of important finds.
Archaeological research that we have supported has found evidence of human activity dating all the way back to the Neolithic period, to late medieval times. Artifacts such as pottery, polished stone and flit tools, jewelry and arms are kept in the Jadar Museum. These are important archaeological discoveries for Serbia, and we are proud to contribute to their preservation.